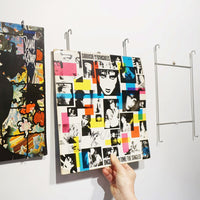 The Vinyl Waller combines aesthetics and ease of use ...
Change the vinyl record on display, whenever you want, whenever you feel like it.
> Immediate access to the vinyl
- the vinyl is inserted from the front using just one hand
- the vinyl record naturally finds its place, without one having to adjust it
> The installation of the VinylWaller is super easy
- Only 1 or 2 tacks are needed to set up the VinylWaller on the wall (tacks included in the packaging).
- No tools required, no need to make large holes in your walls
Create your wall decoration with vinyls
The VinylWaller is a vinyl record holder almost invisible and without frame or glass. It is designed to display your vinyl records on the wall and still have access to play them.
> Discreet and aesthetic vinyl holder
- no frame, no glass
- brackets nearly invisible
> The VinylWaller, for all albums and singles
- fits 99% of all LPs, albums or 12'' singles
- fits double albums too
- possibility to display an opened double album using two VinylWaller set up side by side
- the VinylWaller also exists in a specific size fitting 7'' singles (45rpm)